Black Wings: The American Black in Aviation exhibition records
Object Details
Scope and Contents note

In the 1980s, the National Air and Space Museum created an exhibit, with a correlating text called Black Wings: The American Black in Aviation. The exhibit and book were dedicated to the American Black Aviator, who has anonymously played a historic role in shaping the growth of modern aviation. Black Wings encompasses the men and women who had to overcome enormous social pressures in order to gain the right to pursue the dream of flight in both military and civilian circles. This show was exhibited at the Anacostia Neighborhood Museum from April 01, 1984 to August 05, 1984. These records document the planning, organizing, execution, and promotion of the exhibition. Materials include correspondence, research files, administrative records, brochures, education packages, and design layouts.
Date

c. 1983
Extent

2 Sound recordings (audio cassette)
1 Linear foot ((1 box))
0.05 Linear feet
Citation

Black Wings: The American Black in Aviation exhibition records, Anacostia Community Museum Archives, Smithsonian Institution.
Type

Collection descriptions
Archival materials
Sound recordings
Correspondence
Brochures
Exhibit scripts
Topic

African American air pilots
Aeronautics
Museum exhibits
African Americans
Identifier

ACMA.03-016
Local Call Number(s)

ACMA 03-016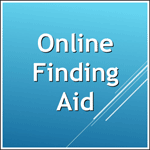 There are restrictions for re-using this image. For more information, visit the Smithsonian's
Terms of Use
page .