John Robinson art reproductions
Object Details
Scope and Contents

Two signed reproductions of John Robinson's original artwork "Pete" and "Winter Scene." Inscriptions read: "To friend Mr. John Kinard."
Biographical / Historical

First and foremost, John N. Robinson considered himself an artist. Born on February 18, 1912 in Georgetown, Robinson was raised by his grandparents in northwest Washington, D.C. after his mother passed away when he was eight years old and his father disappeared, Robinson quit school to help support his family; he worked as a golf caddy at country clubs and dusted cars at a parking garage. A chauffeur at the garage noticed Robinson's drawings on scraps of paper and brought the drawings to the attention of James V. Herring, the head of Howard University's art department. Herring offered Robinson an opportunity to study under James A. Porter. The classes at Howard transformed his interest in art into a passion. Robinson's short time at Howard was the extent of his formal artistic training. When Robinson and his grandparents moved to Anacostia in southeast Washington, D.C. in 1929, he began to paint in earnest. Robinson's paintings reflect everyday life - his home, his family, and his neighborhood. In addition to intimate scenes of family and community life, he completed large scale works including a church mural, Christ at Gethsemane, at Emmanuel Baptist Church. During the 1940s, Robinson exhibited his work and created minute sketches of people at Lafayette and Franklin Parks. He also met artists Pietro Lazzari, Jack Perlmutter, and Jacob Kainen, who got his work into shows at the Corcoran Gallery of Art long before African Americans were welcomed there.
Date

circa 1970s
Extent

2 Items (reproductions , 28 x 21inches)
Citation

Anacostia Community Museum Archives, Smithsonian Institution.
Type

Collection descriptions
Archival materials
Topic

Copy art
African American artists
Place

Washington (D.C.)
Identifier

ACMA.2005.7014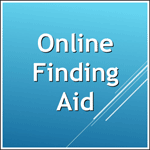 There are restrictions for re-using this image. For more information, visit the Smithsonian's
Terms of Use
page .