Center for African American History and Culture Audiovisual Records
Object Details
Scope and Contents note

This collection contains audiovisul documentation of the work conducted by the Center for African American History and Culture. It includes sound and video recordings of interviews, programs, and exhibit-related materials created before the Center for African American and Culture merged with the Anacostia Community Museum.
Date

1992-1998
Extent

3 Linear feet (3 boxes)
1 Video recording (1 VHS 1/2" video recording)
87 Cubic feet (1 DAT sound recording ; 6 microcassette sound recordings ; 80 audio cassette sound recordings)
Citation

Center for African American History and Culture Audiovisual Records, Anacostia Community Museum Archives, Smithsonian Institution
Type

Collection descriptions
Archival materials
Video recordings
Sound recordings
Topic

African American history
African Americans
Identifier

ACMA.AV09-014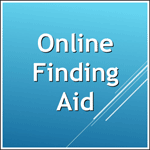 There are restrictions for re-using this image. For more information, visit the Smithsonian's
Terms of Use
page .