Before he became the "Godfather of Go-Go," Charles "Chuck" Brown performed with the DC Band at the Anacostia Community Museum. The Museum's exhibition, "Lorton Reformatory: Beyond Time," featured musical performances, including by the DC Band, as part of amplifying a shared desire by Lorton residents and the outside community for a supportive, rehabilitative environment at Lorton. Like Brown, most of the residents were from Washington, DC.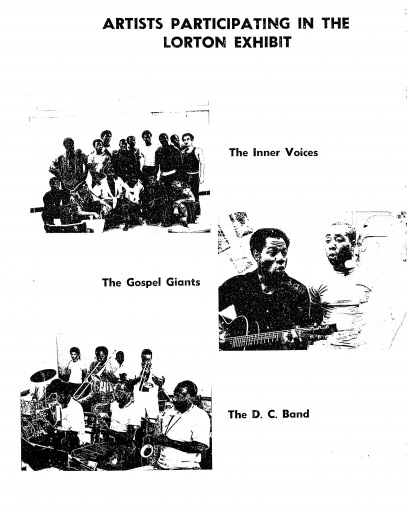 A counselor at Lorton taught Brown how to play guitar in the 1960s, and Brown was an original member of the DC Band, organized in 1962. The fourteen member group practiced on the recreation field at Lorton for nearly two years using instruments that belonged to the Department of Corrections or were donated by nearby military groups. By 1964, the band had received excellent reviews and featured a choir that included women then interned at Occoquan. The DC Band performed at the Watergate (a floating stage along the banks of the Potomac River) as well as at a number of conferences. Brown arranged all of the group's music. 
In addition to the DC Band, Brown fronted the Soul Searchers, who performed for The New Thing Art and Architecture's Jazz Workshop in the early 1970s. The group's name appears on a purple poster reminiscent of the colorful lining of Brown's guitar case. Brown appeared again at the Museum, including for its Juneteenth celebration in 1992. In a 2009 interview in the Museum's library, Brown talks about playing for a special family reunion.
Brown appeared again at Lorton, too, which had closed in 2001 and reopened as a public arts center in 2008. He recognized his mentor in the Workhouse Art Center's audience during an August 2010 performance. From the stage, he credited the Lorton counselor not only for guitar lessons, but also for helping to save his life.
Annually, Washington, DC celebrates Chuck Brown Day with go-go music in Chuck Brown Park near Brown's birthday in late August. Wind us up, Chuck!
In February 2020, go-go became the official music of the District at a time of local and national racial reckoning. The announcement came in Shaw, where tensions over neighborhood change played out in complaints about go-go's syncopated sounds eminating from a combination cell phone-music shop and the counterprotest campaign, "Don't Mute DC." The Go-Go Museum and Cafe also came into existence in 2020.
Resources
George, Samuel. Go-Go City: Displacement and Protest in Washington, DC. Bertelsmann Foundation Documentary, 2020. 51 min.
Go-Go Archive | DC Public Libary, https://www.dclibrary.org/gogo
Hammond, Kato. Take Me Out to The Go-Go: The Autobiography of Kato Hammond. CreateSpace Independent Publishing Platform, 2015.
Hopkinson, Natalie. Go-Go Live: The Musical Life and Death of a Chocolate City. Durham, NC: Duke University Press, 2012.
Jackman, Tom. "Chuck Brown Live at Lorton," The Washington Post, May 17, 2012.
Teach the Beat: Bringing the Distinctive D.C. Sound of Go-Go into the Classroom, https://www.thebeatisgogo.com/