DC Art Association
Above: A mixed media composition by Georgia Mills Jessup hangs behind DCAA's Peter L. Robinson, Jr. as he is interviewed about Exhibition '73 at the Anacostia Neighborhood Museum on February 2, 1973. Anacostia Community Museum, Smithsonian Institution. (ACMA_01-006.2_12-S)
The District of Columbia Art Association (DCAA) was a group of artists in metropolitan Washington, DC dedicated to ensuring that art continued to be a creative, living force in their communities. Originally known as the DC Art Education Association, DCAA's membership broadened from its founding in 1961 by art educators Loïs Mailou Jones, Carolyn Tate, Alma Thomas, and James Lesesne Wells to include individuals, groups, and organizations professionally interested in the fine arts and visual communications. The scope of its involvement in the community also grew. Programs and projects sponsored by DCAA provided scholarships to aspiring art students, financial grants to the Anacostia Neighborhood Museum (renamed Anacostia Community Museum in 2006), awards of recognition to fine arts students at Howard University, and stipends for individual study of art.
Loïs Mailou Jones, an art professor at Howard, became a mentor to her student, Georgia Mills Jessup. Both artists participated in DCAA exhibitions during and after Jessup's tenure as the Anacostia Neighborhood Museum's first artist-in-residence (1968-1970). In a 1991 oral history, Jessup credited DCAA with bringing needed attention to many artists of color. Further, she noted that "everyone wanted to be involved" in DCAA after its first exhibition at the Museum in 1969. The DCAA exhibition catalogues were critically important, in her view, because they featured artists and their résumés, rare exposure that eclipsed racism's hold on the art world. 
Jessup's artwork was on display at DCAA's 1970 and 1973 exhibitions at the Anacostia Neighborhood Museum. A newspaper review of DCAA's 1970 exhibition featured a photo of her oil painting, "Rainy Night, Downtown," now in the National Museum of Women in the Arts' collection.
One of the better-known artists, Georgia Mills Jessups [sic], has a variety of impressive entries. There is a stoneware chess set and "raku" tiled table priced at $850, along with ceramic tea sets and a moody oil painting, "Rainy Night Downtown."
-Herman Schaden, "Ghetto Art Museum Fights for Its Life," Washington Star, 13 April 1970, p. B1
In 1991, the painting was featured on the cover of JAMA (Journal of the American Medical Association). An accompanying essay by physician M. Therese Southgate noted Jessup's belief in the connection between art and medicine, which stemmed from studying anatomy with medical students at Howard. (One of Jessup's daughters, Marsha Jessup, became a medical illustrator.)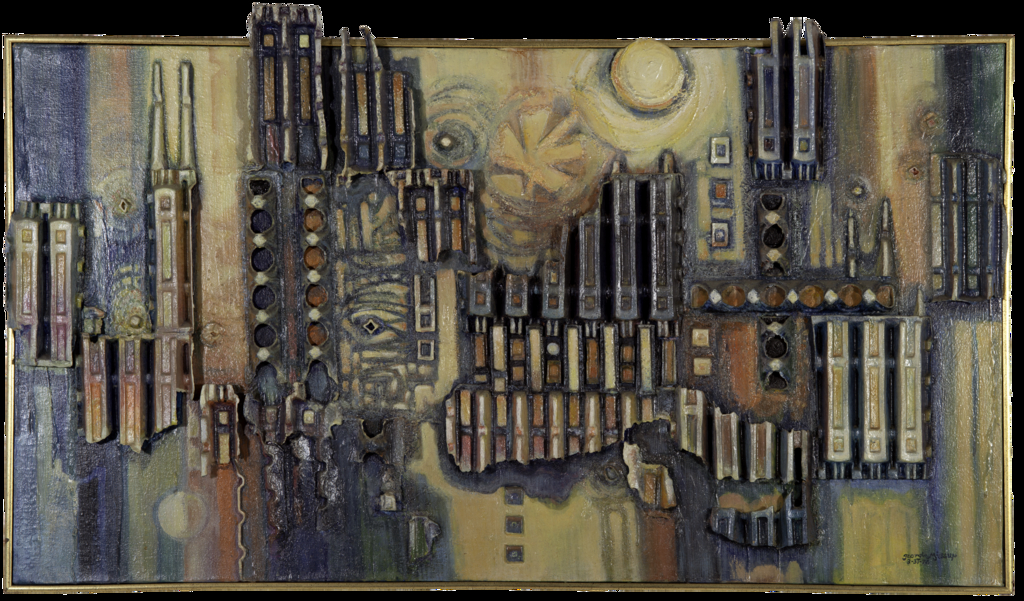 Another cityscape, "Untitled," was among Jessup's works on display in DCAA's Exhibition '73. The mixed media composition is now in the Anacostia Community Museum's collection. 
"Some of the most clever and most beautiful creations are those of Georgia Mills Jessup, who displays delicate ceramic plates and a large acrylic collage, in lively pastels of blue and pink, made up of overpainted egg cartons, cardboard circles and corrugated board."
-Patricia L. Raymer, "When a Museum Cares," Times Herald, Jan. 26, 1973, p. D9.
Mailou Jones remained involved in DCAA, serving as a juror for its third annual exhibition in 1971, along with Sam Gilliam and Kenneth Young. She and another DCAA co-founder and Howard University art professor, James Lesesne Wells, exhibited artwork in DCAA's Exhibition 1974-75 and Exhibition '78. Their works were included posthumously in DCAA's retrospective, Inspiration: 1961-1989, in 1989. 
Resources
Raymer, Patricia L., "When a Museum Cares," Washington Post/Times Herald, Jan. 26, 1973, p. D9.
Schaden, Herman. "Ghetto Art Museum Fights for Its Life," Washington Star, 13 April 1970, p. B1.