| | |
| --- | --- |
| Georgia Mills Jessup, c. 1970. Anacostia Community Museum, Smithsonian Institution. | Georgia Mills Jessup became the Anacostia Neighborhood Museum's first artist-in-residence soon after the Museum opened. During her tenure (1968-1970), curators had already begun research for a series of exhibits about the history of Anacostia, the Museum's southeastern Washington, DC neighborhood. Jessup's heritage was strikingly similar to that of Anacostia. She traced her ancestry to Native American (Pamunkey, rather than Natchotank, or Nacostan, from which "Anacostia" is derived), African American, and European forebearers. |
| Jessup was born in Washington, DC on March 19, 1926, the thirteenth of eighteen children in an artistically-inclined family. Her mother chose the practicality of hairdressing over her dream of becoming an opera singer, while her father worked as a builder. Jessup attended racially segregated District of Columbia public schools, whose legacy of art education dated to the late nineteenth-century, when Director of Drawing Thomas W. Hunster (1851-1929) created an innovative arts curriculum that offered instruction at every level of the city's African American schools, from kindergarten to the post-secondary teacher training program.   | Untitled, Georgia Mills Jessup, 1972. Mixed media on canvas. Gift from the Trustees of the Corcoran Gallery of Art (Dr. Charles Warfield and Mrs. Savanna Clark). Anacostia Community Museum, Smithsonian Institution. |
Artistic Influences
Jessup's artistic abilities were recognized by one of her teachers at Garrison Elementary, who submitted her artwork for display at the 1939 World's Fair. Jessup did not see her drawings on exhibit in New York, but some of her relatives did. Jessup graduated from the renowned Dunbar High School in 1943, the same year that she began undergraduate studies at Howard University. She took classes while raising four children and graduated with a BA in art in 1959.
Jessup counted teachers at Dunbar and Howard among her mentors, especially Howard art professor Loïs Mailou Jones, known for painting and pattern making. (David Driskell, who became an artist and art historian, remembered taking classes at Howard with Jessup in an oral history.) Other artistic influences included Jessup's mother and Herman Walker, an artist with a WPA art project based at the Twelfth Street YMCA, near Washington, DC's fabled Black Broadway. Jessup explained that, growing up, her mother could usually find her and her siblings at the nearby project, where they often worked with clay. (In 1941, Walker proposed a water slide in the shape of a hippo in the Washington Project for the Arts' sculpture contest for the Anacostia Playground, which won him accolades, but not the contest due to safety concerns [J.J.G., "Whimsical Turtle Wins WPA Sculpture Prize," Washington Post, 10 Aug, 1941, p. L7].)
Art Educator and Administrator
Jessup became an art teacher and, later, art administrator in DC public schools. She began teaching full-time at Eliot Junior High School in 1958. She was still teaching there when she had a solo show at The Potter's House, a non-profit coffee shop and gallery on Columbia Road, NW, in 1964. It featured artwork from her graduate coursework at Catholic University, such as a figure carved from limestone left over from construction of the University's bell tower. The show's diverse offerings represented her love of working in a variety of media, though she focused on painting at Howard and on ceramics at Catholic, where she studied with Alexander Giampietro, earning her MFA in 1969. As a band director must know how to play multiple instruments and teach others to play, an art educator must be similarly well-versed in artistic media and able to instruct others. Jessup also taught at Eastern and Western High Schools and at the private Sidwell Friends School.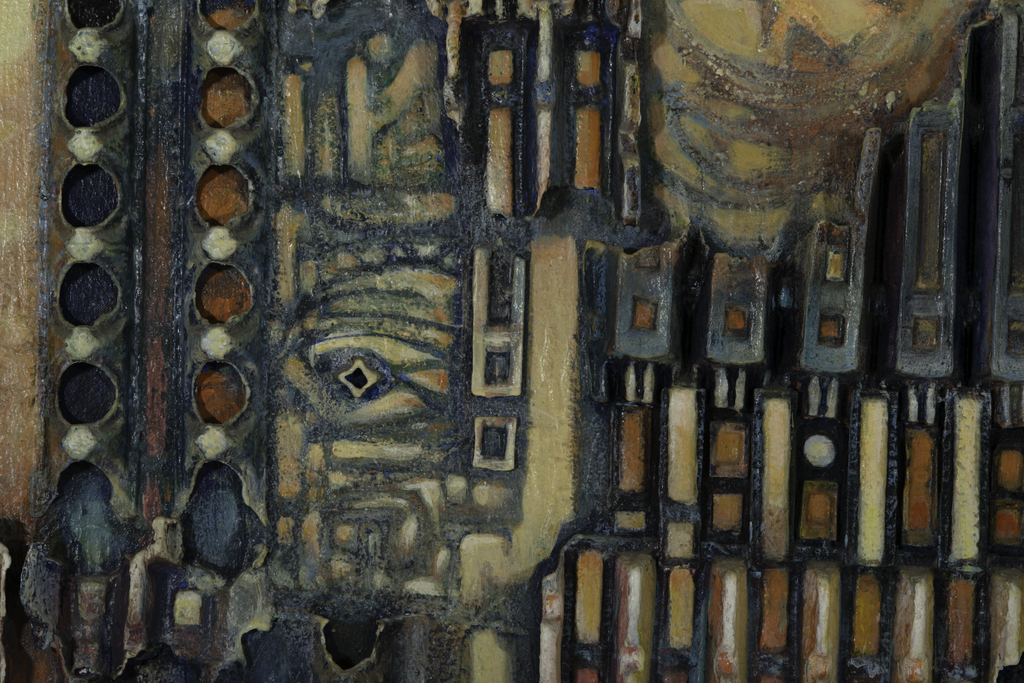 Jessup became the Supervisor of Art for the DC public schools in the late 1970s, a position first held by Hunster. Like him, she kept up with current research in education and staunchly advocated for art education. In a 1979 Washington Post article, she stated:
The validity of having arts early in the schools is proven…and the connections between art and reading skills have been supported by all kinds of scientists. So I will continue that fight.
-Georgia Mills Jessup1
In other articles, Jessup commented on challenges facing art teachers, including the lack of art supplies that she experienced while teaching at Eastern, as well as disparagement by some in the art field who had less respect art educators than for "pure" artists. She also spoke about how art met important student needs, stating that sometimes the "creative stitchery, ceramics, [and] sketches that they can take home" were the first items that students and their families had beyond "basic necessities."2
Artist-in-Residence
In a 1991 oral history interview recorded for the Museum's twenty-fifth anniversary, Jessup recounted meeting Anacostia Neighborhood Museum Director John Kinard at a Smithsonian meeting. The timing was perfect. She was on sabbatical from teaching to work on her master's degree, and he sought an artist-in-residence for the newest Smithsonian. Jessup and her family lived near the museum, whose impact she felt as a member of both the community and the staff. She recalled that the staff "all pooled our ideas" about ways to get the community, at all age levels, involved in arts and crafts. She likened working at the museum to being part of an egalitarian family project, such as when "assigned other work, like painting the baseboards despite having two art degrees."
Jessup felt needed, and she succeeded in bringing three divergent groups into the museum:
Neighborhood children came in to make art.


Unemployed men from a nearby corner created not only art, but also aided in tranforming a vacant lot next to the Museum into People's Park. For example, Jessup noted in a 1991 oral history interview, "One guy in particular, Alvin Prue, not only helped to clean up the park and did some of the artwork...hanging in John Kinard's office...but he also worked in the Craft Shop, sort of as an assistant" and lent protection to Jessup when she was in the studio late at night.3


Jessup also involved well-known DC artists, such as through the District of Columbia Art Association's exhibitions at the Museum.
After her artist-in-residence role concluded, Jessup stayed connected with the Museum when she returned to DC Public Schools as Assistant Supervisor for Art. In that role, she worked in partnership with Zora Felton and other museum educators as director of "The World Is Your Museum." The pilot project set the stage for what would become the National Children's Museum. In addition, a newspaper article about the Anacostia Neighborhood Museum's seventh anniversary celebration depicts Jessup showing examples of raku ceramics to youth. 
A Family of Artists
Jessup's comments about experiencing a sense of family at the Anacostia Neighborhood Museum were deeply informed. Her family of origin all identified as artists, as do Jessup's four children and many of her extended family. Jessup and her family collaborated on exhibitions. In 1979, the family held their first group art show, "Family Re-Union," at Market Gallery 5 in Eastern Market. Visual artists in the family displayed drawings, paintings, and sculpture, while musical family members played for the exhibit's opening. In 2005, "Still Here! Contemporary Powhatan Artist and Writers," featured Jessup, ten family members, and three other artists. Jessup put family first, which meant declining some artistic opportunities, such as furthering her art education in Paris. She used her priorities as a teachable moment, however. According to her daughter, Rose Powhatan,
As children, we never heard her complain. The 'if I could-have been, if I weren't tied to you.' But when we were older she did explain how tough it was, but again, not complaining, but as a lesson. And she let you know that in a family that's creative, you couldn't be a slouch. And that has worked.4
Georgia Mills Jessup passed away in Columbia, Maryland on December 24, 2016.
Notes
1. Trescott, Jacqueline. "Family Art Show," Washington Post, 14 July 1979, D6.
2. "Mrs. Jessup Holds Show in Washington," Afro-American [NPI], 7 Nov. 1964.
3. Oral History Interview with Georgia M. Jessup (AV0001619), ACM 25th Anniversary Oral History Project, Anacostia Community Museum Archives, Smithsonian Institution.
4. Trescott, Jacqueline. "Family Art Show," Washington Post, 14 July 1979, D6.
Resources
Durbin, Louise. "She Keeps Up Prices to Keep Her Art," Times Herald, 20 Oct. 1964, B4 [Photo by Jim McNamara].
Georgia Mills Jessup, Artist Profile, National Museum of Women in the Arts. Accessed 8 April 2022.
Fifth Anniversary, Anacostia Neighborhood Museum, Smithsonian Institution, 15 September 1972 [Photos].
Lawton, Cleopatra, Zora Felton, and Nannette Henry. "The World Is Your Museum: Title III Project of the District of Columbia Public Schools Evaluation, Final Report: 1975-76." July 1976. https://eric.ed.gov/?id=ED130951.
Oral History Interview with Georgia Mills Jessup, ACM 25th Anniversary Oral History Project, 17 July 1991, Anacostia Community Museum, Smithsonian Institution.
Raymer, Patricia L., "When a Museum Cares," Washington Post/Times Herald, Jan. 26, 1973, p. D9.
Schaden, Herman. "Ghetto Art Museum Fights for Its Life," Washington Star, 13 April 1970, p. B1.
Southgate M. Therese. "The Cover." JAMA. 1991;265(13):1623. DOI:10.1001/jama.1991.03460130013002.
Trescott, Jacqueline. "Family Art Show," Washington Post, 14 July 1979, D1, D6. [Photos by Linda Wheeler].
—"Words at the Library on Black Women's Art," Washington Post, 2 Feb. 1979.