Silkscreen Printing
How many artists create posters for their own exhibitions that are works of art in themselves? Lou and Di Stovall did just that for Through Their Eyes: The Art of Lou and Di Stovall, held at the Anacostia Community Museum in 1983.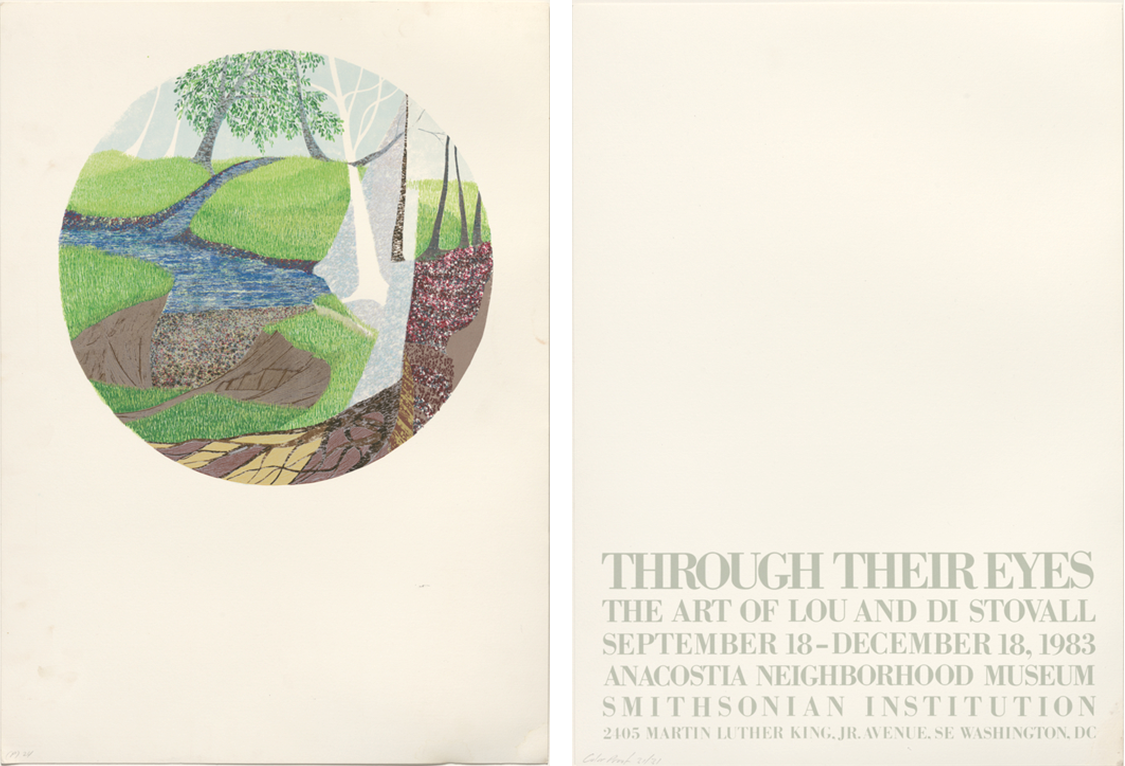 The Washington, DC artists designed and printed the exhibition poster at their studio, Workshop, Inc., located near Rock Creek Park, whose woods and waterways have long been a source of solace and inspiration. One of Lou Stovall's signature circular landscapes, known as tandems, provides the poster's focal point. Workshop's "chop," or printmaker's mark, is embossed on the poster's bottom left corner.
Through Their Eyes reflected Workshop's mission since its inception: to teach. In an award-winning film that the Anacostia Community Museum made for the exhibition, Lou Stovall and studio assistants Leah Gilliam and Alison Sheehy demonstrate the silkscreen process as they print Mornings with Will, whose title recalls time spent with the couple's child.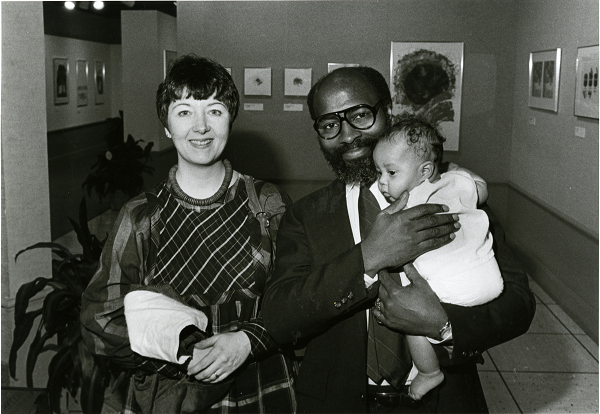 The Museum's collection includes the artwork depicted in the film: an original drawing and a color progression made of fifty-two silkscreen prints. Each print shows a layer of color and texture that Lou Stovall and his assistants combine to form a composite image. In the Smithsonian American Art Museum's collection, another color progression materializes into Seeing Now the Coming Yield, one of a series of tandems illuminating lines from Lou Stovall's poem, "Of the Land."
The Stovalls' inventiveness transformed silkscreen printing from a commercial process to a fine art. Their skills were of particular interest to the Anacostia Community Museum, which opened a silkscreen print shop at 1901 Fort Place in southeast Washington, DC in 1976. (The location became home to the entire Museum when it relocated from Martin Luther King, Avenue, SE in 1987.)
Like Workshop, Inc., the Museum's Design and Production Lab had an ethos of education, training and employing local residents to fabricate exhibition posters and related publications. As part of Through Their Eyes, museum visitors could learn how to make silkscreen prints at workshops held during the exhibit's run from September 18, 1983 to March 4, 1984.
The exhibition's title hails from a silkscreen print by Di Bagley Stovall, Through Their Eyes, commissioned for a 1975 exhibit at The Carlyle in nearby Arlington, Virginia. The print appeared in the Anacostia Community Museum's exhibit and accompanying catalogue.
Resources
Bettman, Robert. "An Act of Nature Brought Down Lou Stovall's Backyard Studio. Now What?," Washington City Paper, 14 January 2021.
Burchard, Hank. "The Stovalls: Their Art Is an Inspiration," Washington Post, 23 Sept. 1983.
McBride, Taylor. "Printmaking with Lou Stovall: A Treasure on 16 mm." Smithsonian Collections Blog. 12 October 2012.