Capital Connections
Above: Attorney Charles Hamilton Houston argues before the District of Columbia Board of Education for Marian Anderson's use of the auditorium at Central High School, March 1939. Scurlock Studio Records, Archives Center, National Museum of American History, Smithsonian Institution.
Marian Anderson's musical connections in Washington, DC not only began long before her Easter Sunday concert in 1939, but led to it. In her autobiography, My Lord, What a Morning, Anderson frames her journey to sing at the Lincoln Memorial by explaining that her manager, Solomon Hurok, "sought appearances for me in all the places where the best performers were expected and taken for granted. The nation's capital was such a place. I had sung in Washington years before—in schools and churches. It was time to appear on the city's foremost concert platform—Constitution Hall" (184).
One of those churches was the Metropolitan African Methodist Episcopal Church, whose large sanctuary often hosted concerts. In 1926, for example, Anderson was among three internationally known singers engaged for a particularly notable Howard University Homecoming. (This "Classic Week" attracted 16,000 people and culminated in the Howard-Lincoln football game held in the newly christened Howard Stadium, renamed Greene Stadium in 1986.)  Her Metropolitan AME recital benefitted Lincoln Temple Congregational Church, which would dedicate its new building in 1928. 
In 1936, Anderson began singing annually for Howard's popular University concert series, which benefitted its School of Music. Not long after awarding Anderson an honorary doctorate in June 1938, Howard sought a larger venue for her fourth appearance, having outgrown Armstrong High School and the Rialto Theatre, both African American-controlled venues. It gradually became clear that the DAR would deny Howard's request to reserve Constitution Hall, which seats almost 4,000, due to its segregationist policies.
In protest, the interracial Marian Anderson Citizens Committee (MACC) formed, electing as its chair Charles Hamilton Houston, the Howard University law professor who helped to dismantle "separate, but equal" policies, and mentored Thurgood Marshall. Houston spoke at MACC's meeting on March 26, 1939, along with leaders like Mary McLeod Bethune, a member of President Franklin D. Roosevelt's "Black Cabinet." MACC added to its agenda the DC School Board after it rejected Howard's request to use the all-white Central High School auditorium. Bethune's friend, First Lady Eleanor Roosevelt, joined MACC's protest, resigning from the DAR and helping to secure the Lincoln Memorial for the now-famous recital.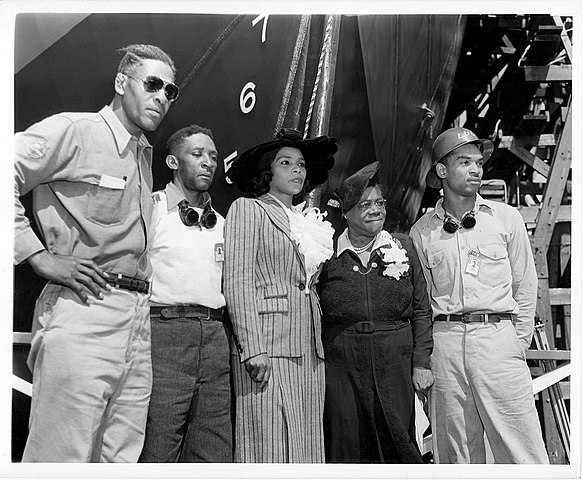 On April 9, 1939, an estimated 75,000 people gathered on the National Mall, and millions tuned into a national radio broadcast. Anderson's program pointedly began with My Country 'Tis of Thee and continued with a mixture of classical music and African American spirituals. The image of Anderson singing on the steps of the Lincoln Memorial became iconic, representing a turning point in the Civil Rights Movement as well as an artistic achievement.
The Anacostia Community Museum's collection includes renderings of the concert by Howard University art professor James Amos Porter and also items belonging to his spouse, renowned Howard University librarian Dorothy Burnett Porter, who served on the concert committee, according to their daughter, Constance Porter Uzelac. Another Howard University graduate, Lillian Evanti, and legendary tenor Roland Hayes were the other two featured concert artists for Howard's Homecoming in 1926. When Anderson became the first African American to sing at the Metropolitan Opera in 1955, she credited Evanti's pioneering career in grand opera as contributing to her own pathbreaking career. With increased financial means, Anderson supported Evanti's endeavors, including the National Negro Opera Company, which Evanti helped to found.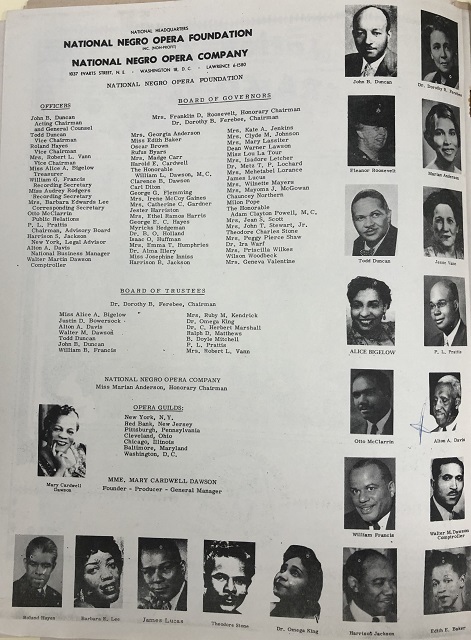 Anderson inspired another Washingtonian's opera career, mezzo-soprano Denyce Graves, who reprised Anderson's Easter Sunday concert in 2009. Singing at the Lincoln Memorial seventy years later, Graves wore a satin gown that Anderson gave to her.
Both Evanti and Anderson sang at the White House, starting in the 1930s. Anderson's additional appearances in the District feature singing at the Capitol for the inaugurations of Presidents Eisenhower (1957) and Kennedy (1961). She returned to the Lincoln Memorial to sing at the March on Washington for Jobs and Freedom in 1963. (Evanti was also there, marching with artist Alma Thomas, though she did not perform.) More than a decade later, Anderson became one of the first Kennedy Center Honorees, performing at the Center's first annual Honors ceremony in 1978. Her relationships with the city and its citizens continue to reverberate in—and beyond—the nation's capital.
Resources
Anderson, Marian. My Lord, What a Morning: An Autobiography. New York: Viking Press, 1956.
Black, Allida M. "Championing a Champion: Eleanor Roosevelt and the Marian Anderson 'Freedom Concert.'"Presidential Studies Quarterly 20, no. 4 (1990): 719–36.
"Concert Will Begin Gala Classic Week for Negro Groups," The Washington Post. 21 Nov. 1926. M15.
Feman, Seth. "Marian Anderson's Presence." American Art, Vol. 28, No. 1 (2014): 104–17.
Stamberg, Susan. "Denied a Stage, She Sang for a Nation." National Public Radio. April 9, 2014.