Inspiring DC Artists
Marian Anderson inspired countless artists, including Washington, DC's James Amos Porter and Donnell Lewis. The Anacostia Community Museum's collection features a study and a watercolor by Porter, a Howard University graduate and art professor who became known as the founder of African American art history.
Porter's artworks focus on Anderson's 1939 concert at the Lincoln Memorial, a response to the Daughters of the American Revolution's refusal to rent Constitution Hall to Howard's School of Music for Anderson's fourth appearance in its popular University Concert Series. The singer's exclusion from an indoor concert venue laid bare continuing racial discrimination in America's capital city, and the resulting outdoor recital captured the public's imagination.
The study's emphasis on symmetry stresses equality, from the Lincoln Memorial's evenly-spaced columns to two sets of listeners standing above a balanced scale of justice.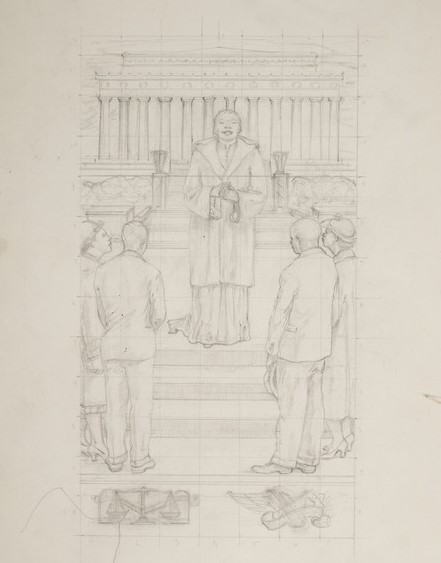 Known for his portraiture, Porter suspends his love of sketching people's faces in this watercolor and refers in the title to the "crowd watching," rather than listening. Lincoln's statue is visible as Anderson sings for an interracial audience. The sights are as significant as the sounds of her voice, her racially diverse musical program, and the crowd's responses, which ranged from rousing to reverent.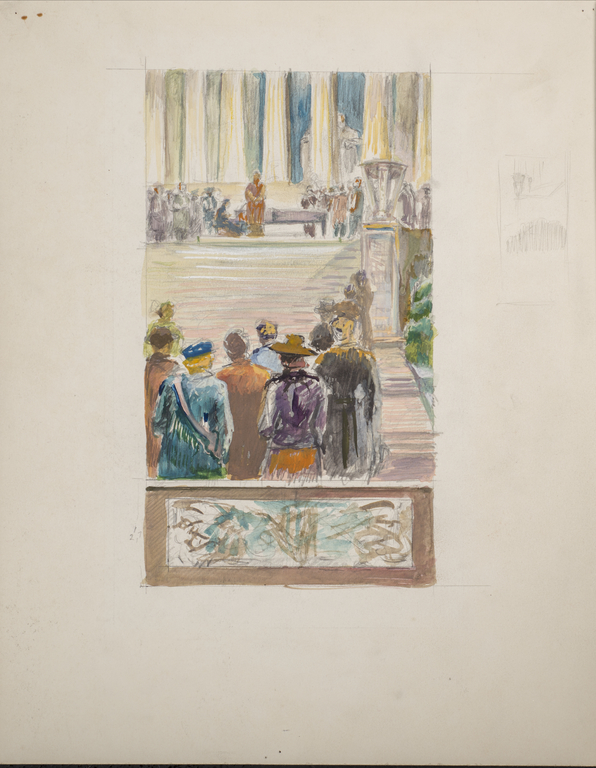 Donnell Lewis, a graduate of DC's Corcoran School of Art, creates sketches that culminate in a portrait of Anderson lifting her voice in song. Commissioned by the US Department of Commerce, his illustration became the signature image for a national campaign urging African Americans to participate in the 1990 Census. As Lewis looked for a way, in his words, "to educate and to motivate" people to "Answer the Census," his artistic vision crystalized when he saw a photo of Anderson singing at Carnegie Hall. "It seemed," he noted, "as if she could be heard singing directly from the photo." The campaign drew its title from "Lift Every Voice and Sing," also known as the Black national anthem, and urged African Americans to "lift their voices" and be counted for the Census.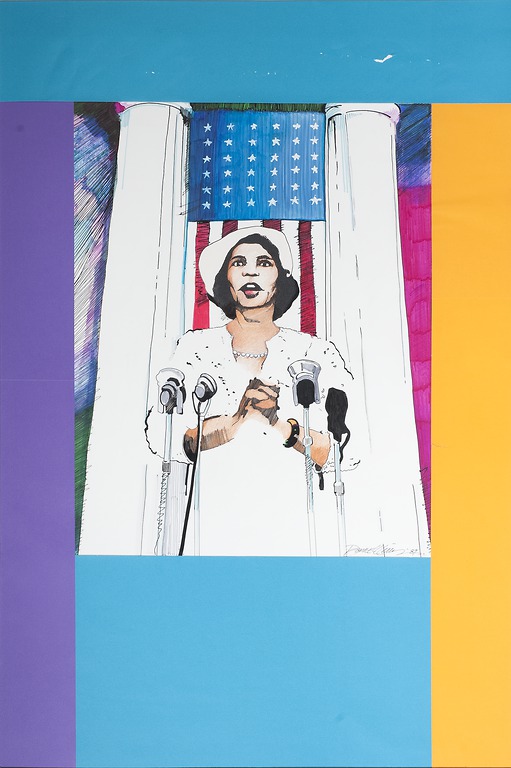 Lewis worked directly with Anderson, who permitted the use of her image as long as it reflected her fully as an artist, not solely recalling her Easter Sunday recital. In Lewis's rendition, Anderson sings before microphones with the columns of the Lincoln Memorial framing an American flag behind her. She wears pearls and a white dress instead of an orange blouse under a fur coat. Lewis describes having the honor of presenting his poster to Anderson at the campaign launch in February 1990. Though the ceremony took place at New York City's famed Apollo Theatre, District doyenne Dorothy Height spoke at the event. The former president of the National Council of Negro Women stated that the "poster will remind us that as Marian Anderson stood up in 1939...and made her voice count...[she] made all of us count." 
Later that year, Anderson chose Lewis's artwork to be reproduced for the dedication of the Marian Anderson Comprehensive Sickle Cell Anemia Care and Research Center at St. Christopher's Hospital for Children in her hometown, Philadelphia, PA. The poster was also on display at the Free Library of Philadelphia's related exhibit, Marian Anderson: The Lady from South Philadelphia.