Shimmering in the Anacostia Community Museum's collection are the ruffled sleeves of Washington, DC's "Original Mambo King," Roland Kavé. The musician and dance instructor introduced mambo to his hometown in the mid-1950s, bringing the latest moves and music from New York City's Palladium Ballroom to DC's dance halls on the U Street Corridor, including the Casbah near the Lincoln Theatre and the Tropical Room in the Dunbar Hotel. 
In some languages, music and dance are a single word, an undivided concept. Mambo is both a musical genre and an accompanying dance style. With this bongo drum and a güiro, also in the Museum's collection, Kavé played mambo, fronting The Fabulous Los Diablos, among other bands in the 1950s and 1960s. He also taught Washingtonians across the city how to move to the music.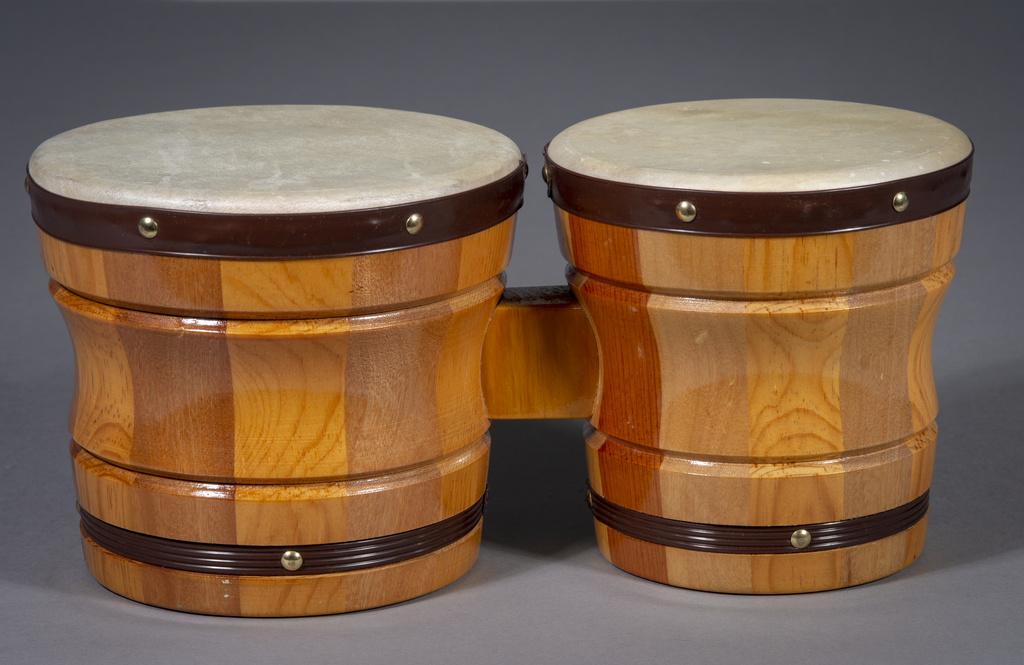 Advertising cards attest to mambo's geographical reach across Washington, DC. Imagine a conga line shimmying from Lidos in the northwest neighborhood of Adams Morgan southeast to the Caravan Ballroom in Shaw, and winding up five miles away at the Comedy Club on Capitol Hill.
This blue advertising card promotes Kavé's dancers as well as his mambo band, which he led as "Tito Valdez." Kavé, who was African American, was not alone in laying greater claim to mambo by using a pseudonym at times. (Fellow Washingtonian Jean Butler headlined "Maria Rodriguez y Sus Magnificos," for example.) Kavé's moniker likely paid tribute to "los Titos," the legendary bandleaders Tito Puente and Tito Rodríguez, from whom he learned in New York City.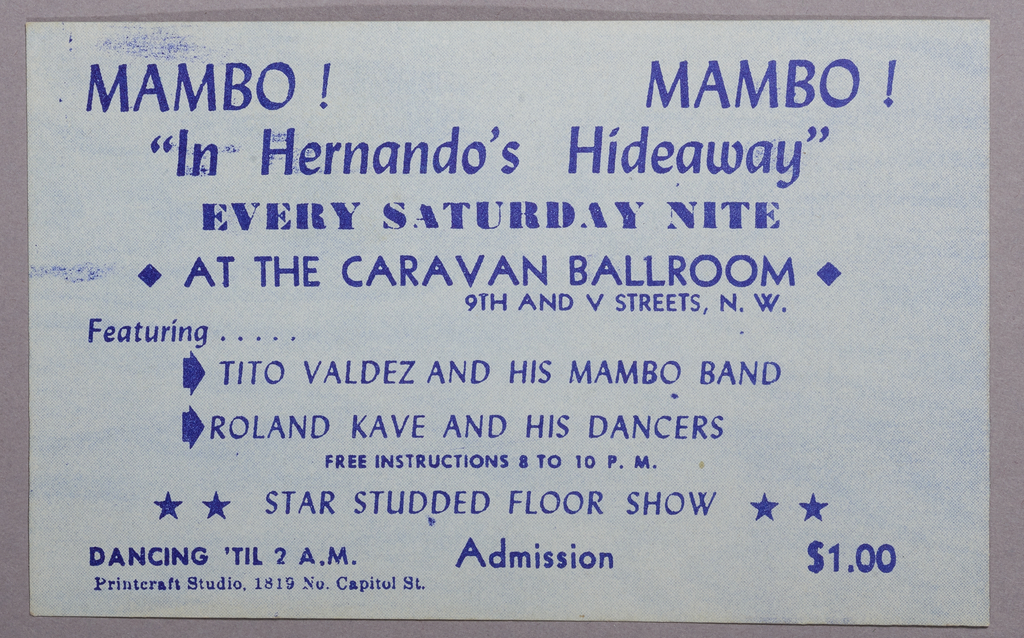 Both the blue card and a felt patch refer to Hernando's Hideaway, named for a popular tango about a fictional nightclub from The Pajama Game. The musical dates to 1954, the year in which the Supreme Court ruled in the case of Brown vs. Board of Education, and Kavé first brought mambo to Washington, DC. The patch's Spanish slogan, "mambo loco," hints at the mambo craze that swept the city, transcending racial lines at a time of entrenched segregation. As in New York City, dance drew people together.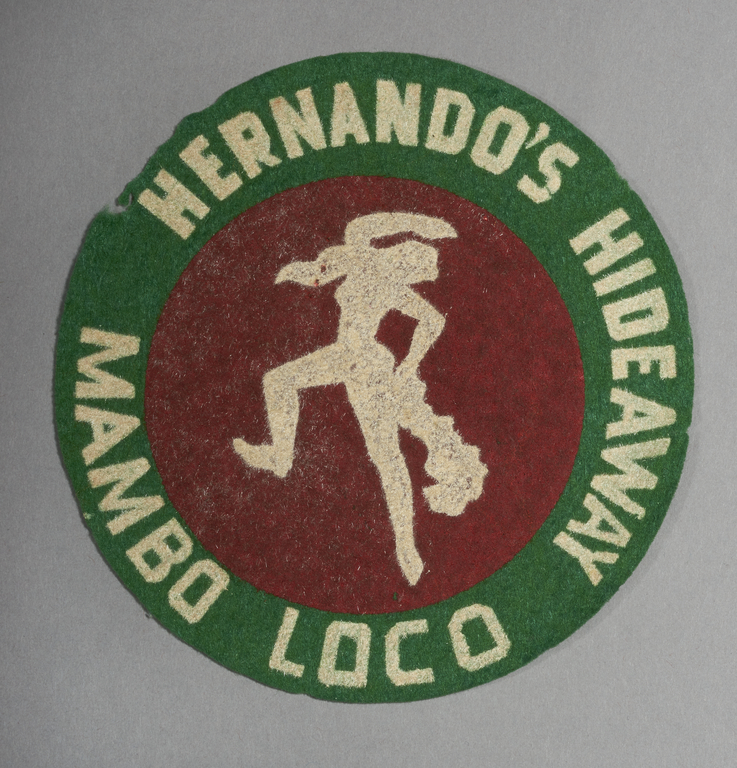 Another advertising card depicts conga and bongo drums, the latter held between the knees of a bongosero, or bongo player. Both are essential to mambo, whose 1940s roots in Afro-Cuban jazz grew into full flower in Mexico City and New York City in the 1950s. As African Americans who fell in love with mambo, Kavé and bandmate Paul Hawkins, whose conga drums are in the Museum's collection, helped to build Washington, DC's uniquely diverse following as well as recognize and reclaim mambo's African heritage.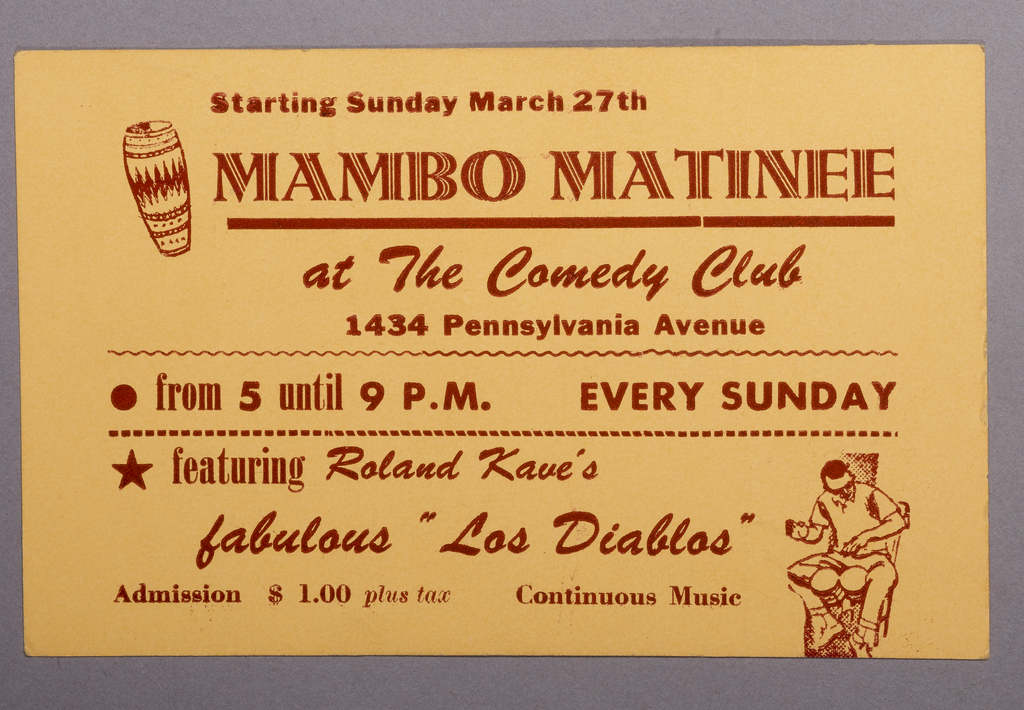 The Anacostia Community Museum featured Roland Kavé's mambo memoribilia in two exhibitions, Black Mosaic (1994-1995) and Down Through the Years (1996). As part of Black Mosaic, the Museum held a day-long conference on Latin music attended by Kavé, Hawkins, Butler, and Lloyd McNeill, a jazz flautist whose music-related artwork is in the Museum's collection. Kavé's self-deprecating humor brought down the house, while his sobering stories of segregation stilled it, according to Patrick Symmes's Washington Post article.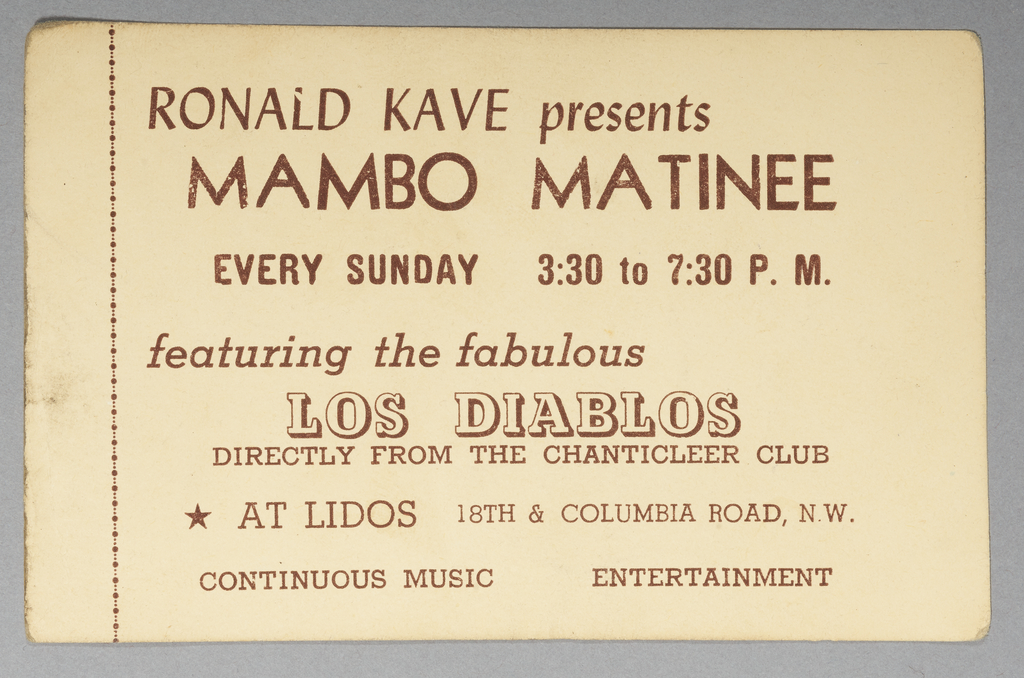 In 2010, the Museum became a dance hall during its Metro Mambo series hosted by Jim Byers, who still, in 2022, spins records given to him by Kavé and Hawkins on his radio show, Latin Flavor/Classic Edition, on WPFW.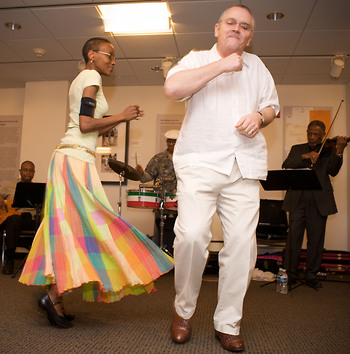 Kavé's instruction lives on through the legacies of former students like DanceAfricaDC founder Baba Chuck Davis, who credited Kavé with awakening his vocational calling.
Resources
Byers, Jim. "Mambo: The 'Forgotten' Black Music," Port of Harlem Magazine, May-October 2001. 
Mambo y más mambo. ArteKultura. Voz de América. 4 December 2009.
Robbins, Dean and Eric Velasquez.
—¡Mambo mucho mambo! El baile que atravesó la barrera del color. Somerville, MA: Candlewick Press, 2021.
—¡Mambo Mucho Mambo! The Dance That Crossed Color Lines. Somerville, MA: Candlewick Press, 2021.