If you were a Washington, DC public school student in the early 1960s, your art teacher might have been Alma Thomas . . . or Sam Gilliam. Both represent a tradition of artist-art educators in DC public schools dating to the late nineteenth-century. The abstract artists, who were friends, actively participated in the DC art scene and shared art with others through many venues, including the Anacostia Community Museum.
Gilliam fused abstract painting with sculpture in many variations, most notably in unstretched canvases draped like fabric. Art critic Phillip Kennicott wrote that Gilliam "liberated" canvas from being stretched taut over a frame, as if empathizing with the material's bondage and releasing it to move.1 Outdoor installations offered opportunity for light and shadow to play with the canvas' colors and contours. Freedom was a gift that Gilliam, in turn, offered to others. It does not seem accidental that Gilliam's unsupported canvas debuted in 1968, a year of tumult, tragedy, and transformation in Washington, DC.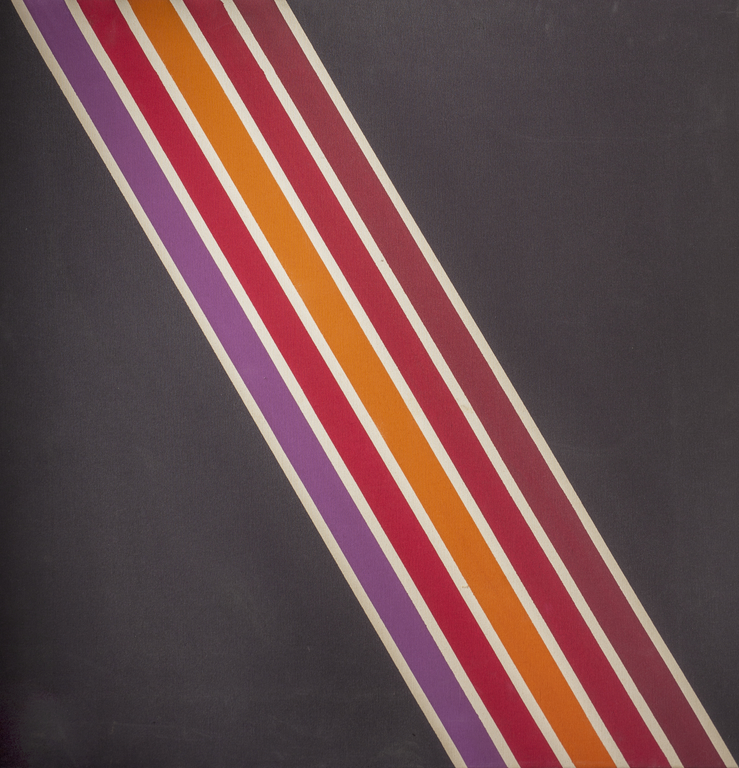 The Museum's collection attests to Gilliam's ongoing innovation in his artistic practice, which also included printmaking, often in collaboration with Lou Stovall. When Gilliam moved to Washington, DC from Louisville, Kentucky in 1962, he found kindred spirits in the city's artistic community, among them Stovall, who arrived in DC the same year, and painters pursuing abstraction in the color field movement, also called the Washington Color School, like Thomas Downing and Morris Louis. "Hard-edge" paintings like Muse I and Long Green bear witness to this era in Gilliam's artistic development, both painted in 1965.
Like Alma Thomas, however, Gilliam reinvented his approach, distancing himself from the Color School's constrained symmetry. Gilliam's third artwork in the Museum's collection hails from 1998. In Daily Red, paint meets plywood in two- and three-dimensions. Gilliam also worked in multiple media with movement and music as muses. He teamed up with one of his three children, filmmaker Leah Gilliam, to create an experimental artwork for an exhibit hosted by the Museum in 1999, When the Spirit Moves: The Africanization of American Movement, organized by the National Afro-American Museum and Cultural Center of Wilberforce, Ohio.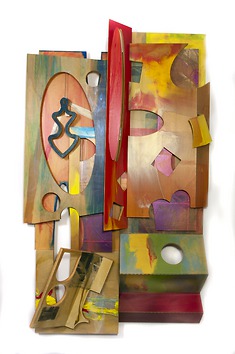 Gilliam continued to explore expansively, reveling in color, form, and process, until his passing on June 25, 2022. At the time, his new tondos (circular paintings) were in conversation with his 1977 painting, Rail, at the Hirshhorn Museum and Sculpture Garden in Washington, DC. In New York City, a retrospective of his 1960s and 1970s-era "drape" paintings was on view at Dia:Beacon.
Was Sam Gilliam really your art teacher at McKinley High School? Did you study painting with him at the Corcoran, Maryland Institute College of Art (MICA), University of Maryland, or elsewhere? Share stories about your experiences at ACMCollections@si.edu or use the Museum's contact form.  
Resources
Binstock, Jonathan P. Sam Gilliam: A Retrospective. Washington, DC: Corcoran Gallery of Art, 2005.
Capps, Kriston. "Sam Gilliam Spent His Entire Career in Washington, DC. Here's How the City Sustained Him While the Art World Wasn't Watching." ArtNet, 8 July 2022.
Dozier, Ayana. "Remembering Abstract Pioneer Sam Gilliam Through Five Trailblazing Works." Artsy.net, 27 June 2022. 
Gilliam, Sam. Existed Existing. New York, NY Pace Publishing, 2020.
Richard, Paul. "Sam Gilliam's Show at the Corcoran: Proof of His Power," Washington Post, 24 March 1983.
Selden, Richard. "Sam Gilliam: DC Artist of Worldwide Acclaim," The Georgetowner, 30 June 2022.
Silverman, Melissa. "Career-Spanning Exhibit Showcases Sam Gilliam in the Round," The Southwester, 19 July 2022.
Select Exhibitions
Contemporary Visual Expressions, Anacostia Community Museum, May 27-July 31, 1987
Sam Gilliam, Dia: Beacon, New York, NY, August 10, 2019-July 31, 2022
Full Circle, Hirshhorn Museum and Sculpture Garden, May 25-September 11, 2022
Gilliam, Krebs, McGowin, Corcoran Gallery of Art, 1969
Hard Edge Paintings: 1963-1965, David Kordansky Gallery, March 28-May 11, 2013
The Music of Color: Sam Gilliam, 1967-1973. kunstmuseum basel, June 9-September 30, 2018.
Of Fireflies or Ferris Wheels, Arts America Program, United States Information Agency, 1991
When the Spirit Moves, Anacostia Community Museum, December 14, 2000-June 1, 2001
Public Art in the Washington, DC area
Kennedy Center for the Performing Arts, Carousel Light Depth, The REACH, Peace Corps Gallery Wall
District of Columbia Public Library:
Martin Luther King, Jr. Memorial Library, Ship
Shepherd Park Library, Library Stars/Library Obelisk
National Museum of African American History, Smithsonian Institution, Yet Do I Marvel (Countee Cullen) 
Reagan National Airport, Construction Aviation Potomac, Terminal B (outside enclosed pedestrian bridge leading to Metro)
Takoma Metro Station, From a Model to a Rainbow
Walter E. Washington Convention Center:
Chevrons, Hall B Concourse
Many Things, M Street, Metro-facing entrance