Landscapes
Above: Thomas Hunster's painting, Forest Glade, appeared in Anna J. Cooper: A Voice from the South, an exhibition at the Anacostia Community Museum, and in an accompanying book by curator Louise Daniel Hutchinson. Forest Glade. Thomas Hunster. Oil on canvas. 1915. Anacostia Community Museum, Smithsonian Institution. 
Born free in Cincinnati, Ohio in 1851, Thomas Watson Hunster grew up in nearby Yellow Springs, Ohio. Professor Hunster's lifelong love of landscapes likely stemmed from two related influences: southwestern Ohio's natural beauty and proximity to Cincinnati, a regional art center where landscape painting flourished. He encountered the work of painters in the area, including his mentor, S. Jerome Uhl (1841-1916), and Robert S. Duncanson (1821/22-1872), another landscape and portrait painter of African American descent.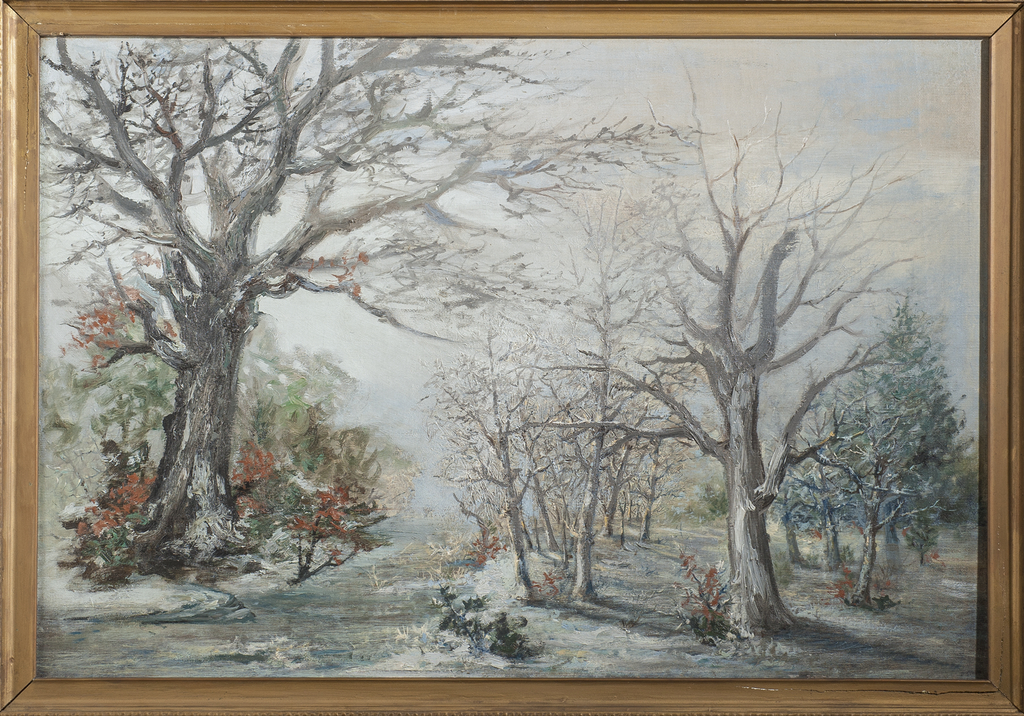 Growing up in Yellow Springs, Professor Hunster attended Antioch Preparatory School and then Antioch College, whose pioneering curriculum combined traditional academics with hands-on learning. Though Antioch did not offer art instruction, Professor Hunster might have fulfilled an experiential learning requirement as an apprentice to Uhl, who lived in Springfield, Ohio at the time. (Like Professor Hunster, Uhl later lived in Washington, DC.)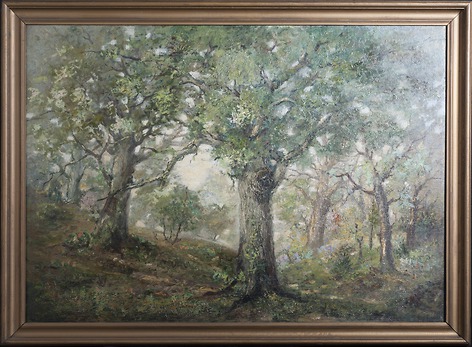 Professor Hunster encouraged students to paint their surroundings, including landscapes, and modeled his admonition. In later life, Professor Hunster might have found inspiration for his paintings from wooded land in nearby Prince George's County, Maryland. In 1911, he and his spouse, Susan Alice Lewis, bought a plot in Ardwick, a community of African American professionals, from artist William Stanton Wormley, a friend and fellow educator in the District's public schools. Just as Professor Hunster taught students to sketch and then realize architectural plans, he helped to design and build a house and studio over the course of a decade. The Hunsters lived in a cottage during construction, which concluded in 1920. Professor Hunster continued to paint and exhibit his work until his death in August 1929. Friends and former students came to see his paintings during a multi-day exhibition at the Hunster home approximately one month later.
Resources
"Ardwick" in African-American Historic and Cultural Resources in Prince George's County, Maryland National Capital Park and Planning Commission, February 2012, 90-96.
"Hunster Art Exhibit to Be Held This Week," Washington Post, 1 October 1929, pg .13.
Speaks, Sara Pelham. "Hunster Paintings," Baltimore Afro-American, 5 October 1929, pg. 2.
Thomas Watson Hunster, 1851-1929: An Exhibition of Paintings. Washington, DC: Howard University, Gallery of Art, 1951.