Marionettes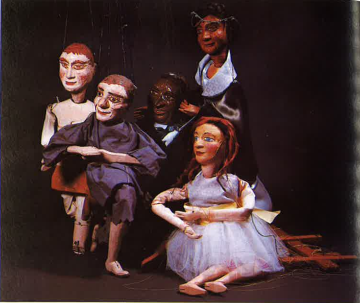 Imagine a school system in which all students received regular art instruction and used art as a tool to learn about other subjects.  Beginning in the late nineteenth century, Washington, DC's public schools for African Americans offered universal art education, part of an interdisplinary arts curriculum created by art educator Thomas W. Hunster (1851-1929). Science lessons included drawing live birds and plants in the classroom, for example.
Along with generations of African American children, William N. Buckner, Jr. (1888-1984) grew up with this interdisciplinary arts curriculum. When he was Hunster's student at the M Street School (1904-1907), Buckner made the five marionettes in the Anacostia Community Museum's collection. Creating wooden puppets operated by strings honed Buckner's artistic abilities, woodworking skills, and engineering expertise. The marionettes varied in skin tone and attire. An African American female marionette wears formal clothing, for instance, including a satin gown and cape. She carries a fringed evening bag, and a tiara accented with blue beads adorns her braided hair. In contrast, a light-skinned male marionette is clad in a simple gray tunic and matching shorts. Another light-skinned ballerina is ready to twirl in a tutu.
Buckner, in turn, used marionettes as a teaching tool during his forty-one year career as an educator, counselor, and administrator in Washington, DC public schools. His woodworking, carpentry, and art classes learned how to make marionettes and also how to write and stage plays. In 1936, for example, Armstrong High School's French club presented a puppet show at a Parent Teachers Association meeting in the school auditorium. Student Serena Randall wrote the play in consultation with historian Carter G. Woodson, who taught at M Street before receiving his Ph.D. from Harvard. (Woodson, who also studied at the Sorbonne in Paris, founded Negro History Week, which became Black History Month.)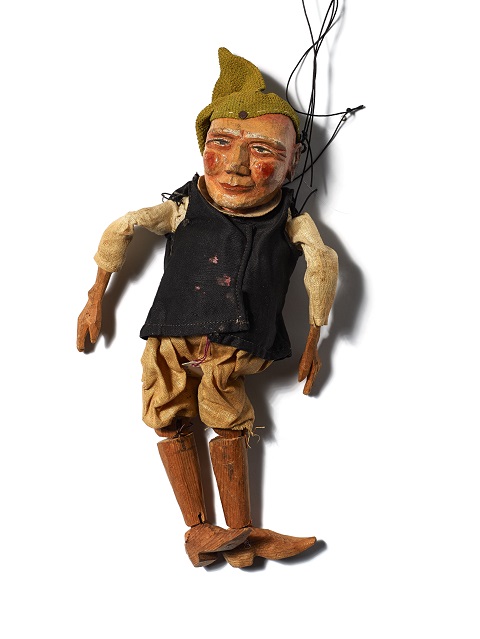 A dwarf puppet made by Buckner's students at Armstrong and an accompanying script, Snow White and the Dwarfs, are in the collection of the National Museum of American History. Handwritten notes about staging and props follow two typewritten copies of the script by Ann Stoddard. The marionette also starred in "Puppets and Things on Strings," a Smithsonian exhibition whose opening coincided with the World Puppetry Festival in June 1980. The events drew puppeteers from around the world to Washington, DC. Buckner attended the exhibit's opening along with puppeteers like Jim Henson and Shari Lewis.
Soon after, Buckner's marionettes helped to tell the story of Anna J. Cooper, the groundbreaking principal at the M Street School who supported Hunster's art curriculum. The marionettes were on display at the Anacostia Community Museum's exhibit, Anna J. Cooper: A Voice from the South, in 1981-1982. 
Buckner's marionettes attest to the legacy of art education within Washington, DC public schools. It seems no coincidence that Alma Thomas also created and taught marionette-making during her thirty-five year career as an art teacher at Shaw Junior High school, which paralleled the bulk of Buckner's career, also in DC public schools. Thomas graduated from Armstrong High School in 1911 and, like Buckner, completed Miner Normal School's two-year teacher training program. She and Buckner might have first met at Howard University, where both studied in the 1920s. In 1924, they each took teaching positions in DC public schools. They also served as jurors for art shows in Washington, DC along with Howard art professors James Amos Porter and James Lesesne Wells.
Forward-looking like Hunster, each saw potential in space exploration, too. "I think sputnik [sic] and that sort of thing will help to open up opportunities" in the trades, Buckner told the Baltimore Afro-American in 1958. Notably, Thomas's paintings inspired by the Apollo missions are in the National Air and Space Museum as well as the Smithsonian American Art Museum and the Hirshhorn Museum and Sculpture Garden. 
Resources
Alma W. Thomas: Recent Paintings, Howard University Gallery of Art, October 22-November 14, 1975. Alma Thomas papers, circa 1894-2001. Series 4: Exhibition Files. Box 3, Folder 9. Archives of American Art, Smithsonian Institution.
"Anacostia Neighborhood Museum" in The Official Guide to the Smithsonian. Washington, DC: Smithsonian Institution, 1981, 1986.
Peeks, Edward. "Personality of the Week: Retiring Principal Notes Life's Goal," Baltimore Afro-American. 11 January 1958, p. 20.
"Puppet Show Given at Armstrong High," Baltimore Afro-American, 19 December 1936, p. 10.
Rosenfeld, Megan. "At the Smithsonian: Kermit Moves In," Washington Post, 9 June 1980, B1, B3.