Mentor and Protegé
As a high school student, William N. Buckner, Jr. found a mentor in his art teacher, Thomas W. Hunster. Under Hunster's tutelage, Buckner developed a lifelong love of art and became adept at painting, making marionettes, and carpentry at the M Street School (1904-1907). Like his mentor, he went on to become an artist as well as an educator in Washington, DC public schools.
In June 1910, student and teacher were featured in a newspaper article about the annual art show for DC's African American public schools. The exhibit displayed work from kindergarteners through post-secondary teacher trainees, another innovation by Hunster, who pioneered a system-wide art curriculum in the late nineteenth century. John H. Wills writes in The National Forum:
We can only mention an excellent centerpiece cut from leather by Minnie Wilson, and some exceptionally artistic metal work by Mr. William M. Buckner [sic], who is taking the special course in drawing under the teaching of Prof. Hunster. Mr. Buckner shows many exquisite specimens of mental [metal] work, besides an intense appreciation in all the forms of art. Mr. Buckner is promising; he leads us to expect things of him for the future.

....The most interesting feature of the show was the individual work of Prof. Hunster. In the Assembly Hall there are a number of exquisitely painted embroidered tapestries, Egyptian, Greek, Arabesque, Japanese, historical and natural....Prof. Hunster is an appreciative portrait painter also.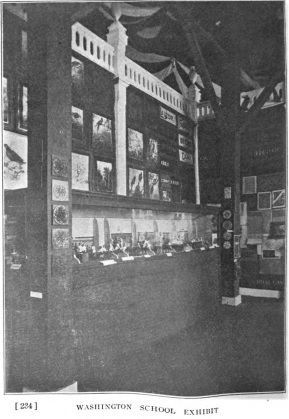 Wills predicted Buckner's future accurately. In 1930, a review in The Evening Star lauded the annual exhibit of student artwork at the Minor School, giving special recognition to Buckner's students. (Hunster's successor, Rosa Nixon Hampton, continued his practice of holding annual exhibits to display student artwork.)
The craft work produced by students of the Armstrong High School, under W. N. Buckner, was perhaps most notable. It consisted of jewelry in silver and colored stones and articles of utility, such as tea strainers, ash trays, etc., in various metals.  The teachers' college exhibit was likewise strong in weaving, pottery, handmade toys, etc.

This was more than a creditable showing. It evidenced the importance of training hand and eye simultaneously, of cultivating a love of beauty, in order to give to everyday life greater significance. That work of this sort is being done here In our public schools is a matter of real gratification.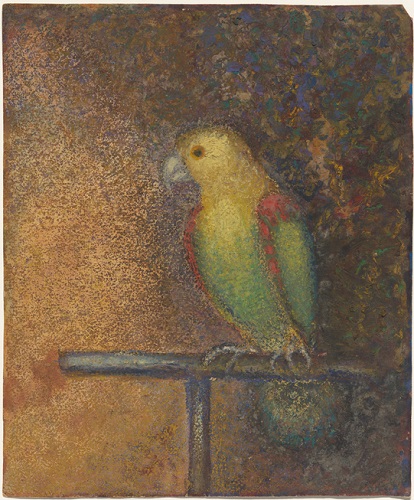 Paintings and puppets in the Anacostia Community Museum's collection attest to the legacy of mentorship by art educators in DC public schools. For decades, Buckner saved paintings that he and a classmate made at the M Street School. He also preserved marionettes that he made as well as paintings by his mentor, Professor Hunster. These artworks were on display in a 1981-1982 exhibition about the M Street School's visionary principal, Anna J. Cooper. Buckner would follow in the footsteps of both Professor Hunster and Dr. Cooper, respectively. Like Hunster, he became an art educator and maintained an artistic pratice throughout his life. Like Dr. Cooper, he earned a graduate degree and served as principal (Phelps and Armstrong high schools).
Resources
Jackson, Giles B. and D. Webster Davis, The Industrial History of the Negro Race in the United States. Richmond, VA: The Virginia Press, 1908. Revised Edition. Negro Educational Association, 1911.
"Notes of Art and Artists," The Evening Star (published as The Sunday Star), 11 May 1930, p. 21.
Wills, John H. "Art in Our Schools" in "Vanity Fair," The National Forum, Vol. I, No. 6, 4 June 1910.