Food for the People: Eating and Activism in Greater Washington
April 17, 2021 – September 17, 2022
Anacostia Community Museum
1901 Fort Place, SE
Washington, DC
Anacostia Community Museum Plaza and indoor exhibition
With every bite of food we eat, we have an opportunity to help remake an unjust and unequal food system.
Do you know where your food comes from? Who produces, processes, and prepares it, and in what conditions? Why is fresh food available in some communities, and not others? And who—if anyone—is responsible for ensuring that everyone has access? Food for the People explores these questions by looking at the greater Washington, D.C., area's food system, the inequalities that shape it, and the people working to transform it.
Take a deep dive into the food issues of the nation's capital—past and present—with this outdoor and indoor exhibition featuring artifacts, art installations, videos, and hands-on interactives. 
Lead Sponsor: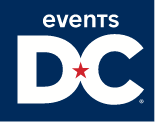 Supporting Sponsor: The Hillside Foundation – Allan & Shelley Holt
Sponsor:

Additional support provided by AARP DC.
This exhibition received federal support from the Latino Initiatives Pool, administered by the Smithsonian Latino Center, and from the Asian Pacific American Initiatives Pool, administered by the Smithsonian Asian Pacific American Center.