Hand of Freedom: The Life and Legacy of the Plummer Family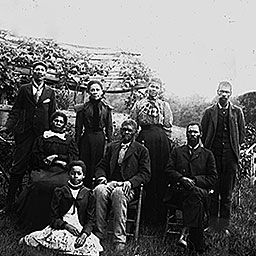 February 23, 2015 – December 27, 2015
Anacostia Community Museum
1901 Fort Place, SE
Washington, DC
This exhibit looks at the life and legacy of the Plummer family in Prince Georges County, Maryland in the 19th century. Adam Francis Plummer (1819 - December 13, 1905), enslaved on George Calvert's Riversdale plantation, began to keep a diary in 1841 and maintained it for over sixty years. His diary documents day-to-day life. It also contains poignant stories of the sale and separation of Plummer family members and their long struggle to reunite the family after the end of the Civil War.
In 1870 Henry Vinton Plummer, the eldest son of Adam Francis Plummer and Emily Saunders Plummer, established the Bladensburg Burial Society. The organization provided a social network for members and also provided financial and other assistance to help with family or health emergencies, and with burial expenses. Plummer's diary and artifacts from the Bladensburg Burial Society are displayed along with photographs from the family.
The exhibition also includes video excerpts from the Smithsonian Channel documentary Civil War 360: The Fight for Freedom segment hosted by Dennis Haysbert and featuring the Plummer family artifacts.